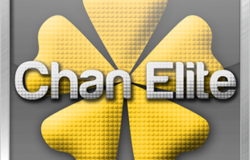 After a long development time, Chan Elite has been completed. We are very pleased with the application and hope that you will be also.
Here is the description and link, the link will probably not be available for a week or two.
Chan Elite is the ultimate image board browsing experience for iPhone, iPod Touch, or iPad. Chan Elite was developed with the user in mind and as a result is filled with amazing features.
★★★★★
Features:
+ Browse hundreds of supported imageboards
+ Beautiful Customizable Interface
+ Posting to imageboards
+ Animated GIF Support
+ View all photos in a thread at once
+ Image Downloading
+ Background Downloading
+ Thread Watching – keep track of your favorite threads
+ Built in Photo Storage
+ Optional PIN Lock
+ Much much more
WARNING: After using this app, image board browsing will never be the same.
We hope you will enjoy this application,
Legendary Software Labs LLC